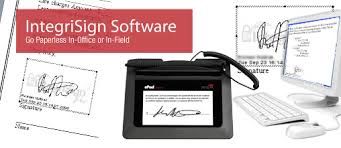 eSignature Products
What is an electronic signature?
An electronic signature has three key aspects. The process must properly identify the signer. The signature must be permanently attached to or associated with the signed document. And the process must clearly show the person understood what was being signed and intended to sign it. The document integrity and signer identity is verified with a digital signature, a mainstay of the Public Key Infrastructure (PKI). In fact, electronic signature applications, like IntegriSign Pro, use digital signatures to ensure non-repudiation of digital documents. eSignatures provide efficiency, convenience, speed and security.

Electronic signature Solutions and Software:

IntegriSign Pro – Client/Server



A Sign of Efficiency, Convenience, Speed and Security IntegriSign Pro is Interlink Electronics' full-featured esignature software solution for all your business-critical processes, both internal and external. By capturing and verifying esignatures, you gain greater efficiencies, provide a higher level of customer service, and position yourself as a leader in your industry.
IntegriSign Desktop -

Paper-based business processes Solution



IntegriSign Desktop is a quick, easy, and inexpensive way to automate paper-based business processes. It provides the plug-ins that enable signature capture in popular desktop applications. Bundled with every ePad product for free.
IntegriSign Desktop also provides a set of SDKs for capturing signatures in PC and web applications and for interacting directly with the various ePadLink signature pads.
eSign Emcee

- A web-based browser solution



As a web-based browser solution, eSign Emcee software facilitates electronic signing of document ceremonies (collections of documents) by different people at different times in different locations using a variety of signature collection methods: electronic signature pads, mobile devices (iOS and Android devices), and click-to-sign with a mouse.
eSign Emcee software is designed to be hosted in a variety of applications and environments. You may use it to build your own signature service that operates on either the public Internet or in your company's private intranet. eSign Emcee simultaneously supports biometric electronic signature pads from Topaz Systems, as well as iOS and Android mobile devices, and non-biometric digital "click-to-sign" options.
signing on Apple products is supported through the iEmcee app, and signing on Android products is supported through the Emcee app, via electronic handwritten signatures and click-to-sign. Signing is also available through the Topaz bluetooth wireless signature pad that can be connected to your iPad, iPhone, or Android device.
The ePadLink SigCaptureWeb SDK offers a means for developers to capture handwritten signatures on ePadLink signature pads for web applications running in the Chrome and Firefox browsers.