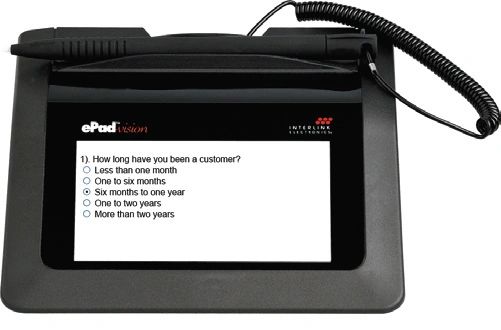 ePad-Vision VP9818
Electronic Signature Pad Technology 

Eliminate the need to print documents for signature and approval with ePad electronic signature devices. Create electronic signatures during face to face signing ceremonies. Perfect for in-store or in-branch scenarios in industries such as Real Estate, Financial Services Retail and Medical. 
With no ongoing monthly software fees saving you time and money the ePad is completely secure and fully complies with the Australian Electronic Transactions Act. The ePad's biometric capture method and advanced encryption technology guarantees the integrity of electronic signatures just like wet ink signatures. The bundled software protects signed documents against any changes – big or small – and that means peace of mind for you and your organisation.
The device is quick to setup and even easier to use. Simply download the appropriate driver from the links below and plug in the device. When users with the device and software installed open Word documents or PDFs they will be able to insert signature blocks for signing. With the Signature blocks created you are ready to start creating secure biometric electronic signatures on your documents. 
No need to print documents or sign up to expensive pay by the month hosted digital signature solutions.   

ePad Vision
ePad-vision, the latest addition to the ePad® Family, not only captures secure, legally-binding eSignatures, its large, full-color LCD screen enables you to display unique visual images and text that attract attention and help your customer-facing representatives cross-sell products and services.  It brings state-of-the-art technology to electronic signatures with USB connection. Bundled with IntegriSign Desktop software at no extra charge.
Key Features:
Modify compliance & affirmation text




Select an eSignature background image




Upload rotating marketing slicks




Change the eSignature colour, thickness, and location.



ePad Software:
Bundled with every ePad product is IntegriSign® Desktop eSignature software with plug-ins for Microsoft Word and Excel, as well as PDF signing with pDoc Signer (available for download from the ePadLink Software and Support Site) and Adobe Acrobat, so you can start eSigning out of the box.
Users of Microsoft Office 32-bit with Windows 32 or 64 bits:
Users of Microsoft Office 64-bit with Windows 32 or 64 bits
ePad Resources:

ePad Accessories:
ePad Maintenance and Support: